Countdown to the 2023 Cruise
Our Purpose
The purpose of Cruisin' Gratiot is to organize an annual car cruise as a community event which is family friendly, highlights the city of Eastpointe, encourages visitors to patronize local businesses, and provides a forum for local charities to raise funds.
In addition to securing funding for the event from various major sponsors, Eastpointe Cruisin' Gratiot will donate proceeds to charitable organizations which focus on local needs. If you know of or support a local charity and would like for it to be considered for a future cruise, please download and complete the Charity Registration form.
Our Beneficiaries
Over the years, the following organizations have received either monetary or in-kind donations:
CARE of Southeast Michigan
Champions for Life: Vision Hope
East Detroit High School In-House Scholarship
East Detroit High School Golf Club
Eastpointe Community Chest Networking Forum
Evangelical Homes of Michigan
Holy Innocents/St. Barnabas Revelations Youth Group
Leukemia Society Michigan Chapter
Love Life Family Christian Center
Macomb Homeless Education Project
Michigan Military Technical and Historical Society
Muscular Dystrophy Association
Northeast Church of Christ
Play Place for Autistic Children
St. Basil the Great St. Vincent dePaul
St. Veronica's Men's Club and Youth Group
How did the Cruise Start?
A simple question posed in 1998 by then-Cloverleaf General Manager Carol Corrie to Eastpointe Police Safety Officer Tom Ostrowski went something like this:
"What would be the possibility of a Classic Car Cruise on Gratiot?"
Officer Ostrowski was polite but not encouraging. Others responded with, 'it will never fly' or 'what, are you nuts?' But Carol persevered and here's what happened later that year and in 1999:
Carol Corrie invited to join the Eastpointe Roseville Chamber of Commerce, then shares the idea of the Cruise
Carol partners with Jim Winn, business owner, Eastpointe resident, and major car enthusiast
The first Cruise was set for June 20, 1999, setting up the precedent of holding the event at the same time every year, the Saturday before Father's Day
The Cruise gains support of then-Mayor Harvey Curley (who is now the current Cruise President), Eastpointe City Council and City Department Heads, and Eastpointe Police and Fire Departments.
'Doubting' Thomas Ostrowski, along with then-Police Chief Tom Danbert and then-Inspector Mike Lauretti, are all instrumental in getting a dedicated Cruise lane through MDOT (Michigan Department of Transportation). Lauretti later became Police Chief.
The Eastpointe-Roseville Chamber of Commerce became the umbrella organization creating the Cruise.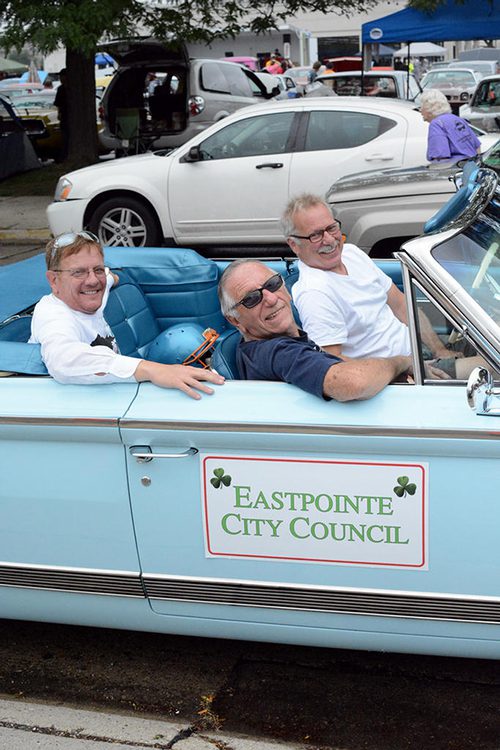 The First Cruisin' Gratiot Board was named in 1999. Board members included:
Jim Winn
Networking Forum
Peggy Brown
Executive Director, Eastpointe-Roseville Chamber
Magdalena Gbur
President, Eastpointe-Roseville Chamber
Paula Holz
Eastpointe DDA Director
Diane Blain
Public Relations, East Detroit Public Schools
Tom Danbert
Eastpointe Police Chief
Tom Ostrowski
Eastpointe Traffic Safety Officer
Mike Lauretti
Eastpointe Police Inspector
Carol Corrie
General Manager, Cloverleaf Bar and Restaurant
Harvey Curley – President
Jim Mischel – Vice President
Diane Reece Seger – Treasurer
Kathy DiCenzo Wodecki – Secretary
Kevin Rowley
Sheila Ulinski

Ken Thiel
Kim Barich – Registration
Paul Mastalanski – Security / Parking
Tim Csokas – Media
Pat Mann – Director Emeritus
Rob Baker
Mariah Walton